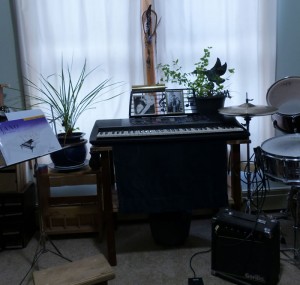 Lessons are typically provided to single individuals on a particular instrument on a regularly recurring basis.
Students have ranged in age from 4 to 94 years old.
Skill levels similarly have ranged from complete beginner to advanced level player.
Pursuit of competence and advancement of skill drives all lessons.
Within each lesson, specific assignments are addressed.  Each assignment is specifically marked as done, by mutual agreement, or reassigned for continued work-over.
A variety of material is typically included in a lesson.  Manual dexterity, a new musical topic and songs form the common elements in a lesson assignment.
Helpful tips are offered throughout every lesson.
Prior to starting lessons, you will be provided with several write-ups.  They are my Statement of Principles, Practice Tips and Publications List.  These articles present my point of view on lesson format and content, successful practice techniques and music books and articles written by me.
Industry-standard books are used throughout the lesson relationship.  Publishers commonly used include Hal Leonard, Faber & Faber, Schaum Publications, Alfred Publications, FJH Music Company, Mel Bay, Oak Publications, KJOS Publications, Santorella Publications, Watch & Learn Publications.
Outside material is sometimes bundled into the lesson effort, as when a student is in a school band and needs to learn to play a set of pieces.
A carefully-designed plan is actively maintained for every student of the best set of books to add in, as those currently in use are completed.
Lessons with me do not require commitment to a specific block of lessons or a defined length of time.
Every attempt is made to provide flexibility in scheduling, as events in life inevitably intrude upon the lesson routine.
I clearly recognize that each student is a unique individual and brings his/her own personality/strengths and weaknesses/learning style to the lesson.
The image of a steel hand in a velvet glove suggests my style of instruction.
I have delivered no less than 25,000 hours of lessons to date.
References of current students are available upon request.
Request A Lesson
Lesson Rates
Gift Certificates
Practice Tips