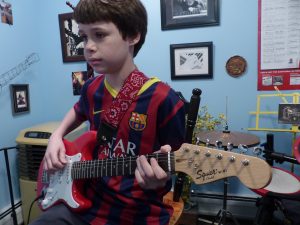 Guitar playing ascends through hundreds of levels of skill and complexity.
Technology has made available many decent guitars at quite a low cost.
Persistence is key to gaining mastery of this instrument.
Every new note and chord brought under control brings its own satisfaction. Once claimed, they remains available for use.
Hal Leonard, FJH Music Company and Mel Bay are some of the major publishers whose books I like to use in teaching the guitar.
I often supplement those books with a number of exercise worksheets of mine that focus on building up your orientation and dexterity skills on the instrument.
I have taught hundreds of students on acoustic and electric guitars over the years.